There is this problem of being unaware of previous solutions because you didn't care about the problem when the solutions were invented. There's also this problem of reinventing stuff because you think you can do better (than the existing solutions). Here's one of my re-inventions.
I wasn't around when TorrentFreak posted the useful tutorial on how to make a custom TV torrent feed. My Internet connection was running on GPRS back then, so torrents were hardly of any concern to me. So when I started wondering "Is there any way I could get a notification or something when a torrent of a new episode of [show name] becomes available?" I inevitably decided to invent my own solution.
The idea was pretty much the same as in TorrenFreak's tutorial – aggregate search-based, per-show RSS feeds from ezRSS.net (Edit: Site gone, try ezrss.it instead) to get a single feed containing all the shows. However, I also wanted to include Bleach (a popular anime) in the feed. For this I used a Mininova.org search-based RSS feed and filtered it for items with at least 100 seeds to get rid of obvious fakes. Most torrent feeds don't include the seed/leech numbers, but Mininova does and one can retrieve and analyze them with a bit of regexp magic.
The whole thing was done in Yahoo! Pipes : this is the completed pipe. You can use it as a template for your own custom torrent feeds.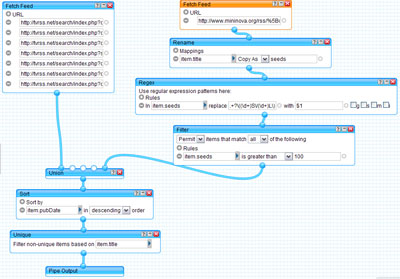 By the way, the same approach can be used to get notified when a DVDrip of your favorite movie finally comes out.
Related posts :